Make a Unique Wedding Announcement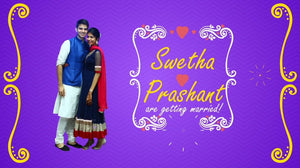 To ease out a little bit of you stress, we're here to give you a breather so that you can make it through the fiasco.
Weddings are all about enjoyment and happiness, so please make it count. See the happiness when you invite your loved ones. An invite is the first formal communication you send out to the guests. So you have to make it special. How can you stand out of the crowd? Yes, do something differently.
Begin with a teaser/save the date invite to request your guests to block their dates. This needs to be sent well in advance,i.e. as soon as your wedding date is fixed! The save the date invite can be short just with your names, date and city of the wedding! Or have a cute story based animated invite.Video wedding invites are picking up in the market now and not many have done it.
Follow-up with contemporary print designs that will go with the look and feel of your video wedding invite. Your friends will definitely envy you!

There's lot to write about weddings, love, proposals and much much more! Stay tuned to our next post!
Until then
Cheers

Team Let's Announce